Product
Dry Chemical Feed Series
Dry Chemical Feed Equipment and Controls Series
A Variety of Options to Choose From
We offer a variety of technologies for feeding and metering dry chemicals commonly used in the treatment of municipal and industrial water and wastewater.
Our extensive line of volumetric screw and gravimetric feeders, feeder tank systems, and accessories can handle the most commonly used chemicals in the municipal water applications such as calcium oxide, calcium hydroxide, ferric sulfate, soda ash, potassium permanganate, aluminum sulfate, and carbon. Chemicals used in industrial processes include bleach, clay, gypsum, plastic pellets, pigments, and flour.
Typical applications include:
Neutralization
pH control
Coagulation
Sedimentation
Fluoridation
Sludge Control
Softening
S02
Odor control
Dry Ingredients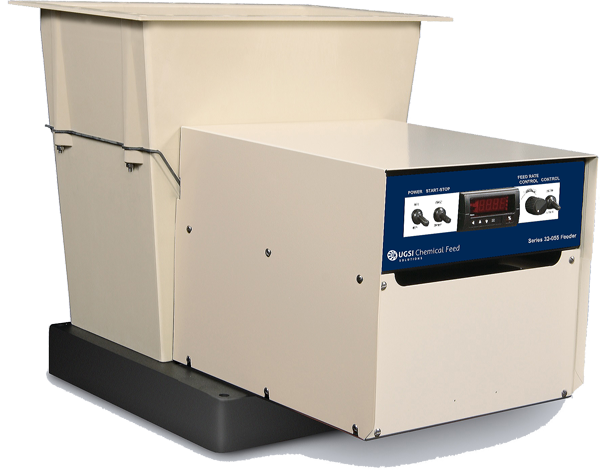 Series 32-055 Volumetric Feeder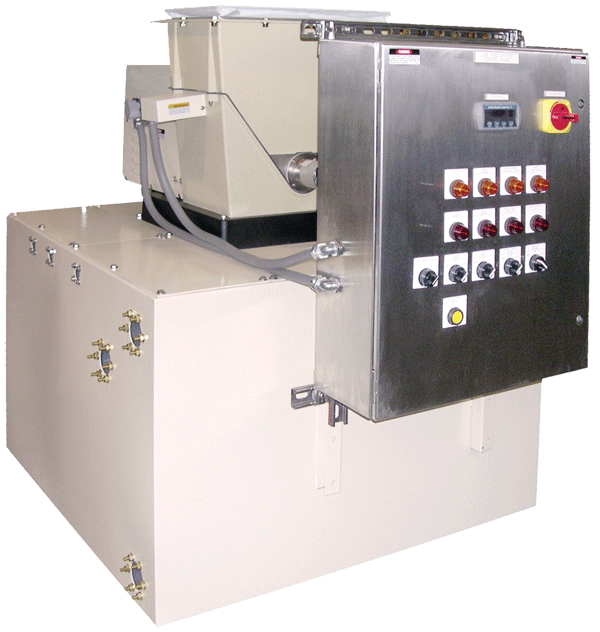 Series 35-150 Tank Feed System
Tank Feed System, Series 35-150, Tailored to Your Needs
The Series 25-150 chemical feeder solution tank system is designed for preparing large or small volumes of solution from dry chemicals for water and waste treatment applications.
Although this system is a pre-engineered, packaged system, built with standard components to keep costs low, it can be tailored to almost any installation requirement. There is no need to pay for functions that will never be used, or to settle for too little or too much capacity or control.
Features:
Economical system that gives better results than a do-it-yourself system

Pre-engineered for efficient operation

Wide choice of arrangements

Custom system from stock components

Rugged feeder

Pre-tested and economical to install

Optional accessories
Series 32-050 and 32-055 Volumetric Feeders
The Series 32-050 and 32-055 Volumetric Screw Feeders are designed to feed a wide range of water and wastewater treatment chemicals as well as industrial process chemicals and dry materials.
Options include: Four different feed screw sizes and capacities from 0.03 to 50 cubic feet. The continuous operating range is 20:1, extendable to 60:1 by belt position on a stepped pulley.
Series 32-050 Feeder
This economical feeder features a constant speed feed screw that is controlled by a manually-set percent timer. The feeder cycles on and off over a one minute feed cycle depending on the timer setting.
Series 32-055 Feeder
This highly adaptable feeder features a variable speed feed screw with four different control arrangements:
Manual control via a feeder mounted potentiometer

Start-stop control from a remote interlock

mA control from a flow signal or remote plant control.




mA control from a flow signal or remote plant control with 4-20mA transmitter feedback
Features and Benefits
Rugged, corrosion resistant construction for long service life
Design simplicity for reliable operation with minimal maintenance
Various control options-manual to fully automatic
Accuracy of 1% to 2% full scale with free flowing materials
Wide operating range
Integral hopper agitation for difficult-to-handle materials
Hopper low level switch and vibrator options
Special arrangements for carbon and potassium permanganate
Hazardous location arrangement (FM approved)
Food-grade arrangement available for industrial applications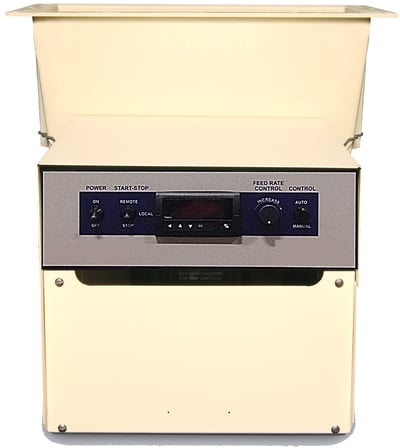 Series 32-055 Volumetric Feeder

Let's get the conversation started
Tell us a little bit about you and the information you're looking for and we'll send you information by email about the topics you are interested in. Check the box to have a cleanwater1 expert contact you within one business day.
Information The way you want it
Additional Resources

Learn At Your Pace
By subscribing to our learning track, you will receive emails featuring videos, webinar invites, informative articles and more.

View Our Online Library
Featuring brochures, case studies, data sheets and more. Filter by product category, brand, location, use case or document type.

Connect With Us
Contact a member of our team using our online form, by email or give us a call. We look forward to speaking with you.