Microclor® On-Site Hypochlorite Generation
Efficiency and Reliability At It's Best
Microclor® On-Site Hypochlorite Generation (OSHG) is the market leading on‐site sodium hypochlorite generator with systems installed worldwide. Microclor® OSHG systems efficiently and reliably generate sodium hypochlorite disinfectant with just salt and power without the inherent risks of gas chlorine or delivered concentrated hypochlorite.
Microclor® OSHG, The Next Generation OSHG
Microclor® OSHG is the next generation OSHG. It was purposefully designed to be safe, reliable and easily maintained. Using only salt and electricity, the Microclor® OSHG brings simplicity and safety to the water disinfection process.
The combined benefits of the following unique features make Microclor® OSHG the most resilient and durable system available today:
Vertical Cell Arrangement

Multiple Cell Configuration

Direct Hydrogen Management

Continuous Process Control

Full-Wave DC Power

Compact Cell Design

High-Velocity Electrolyte Circulation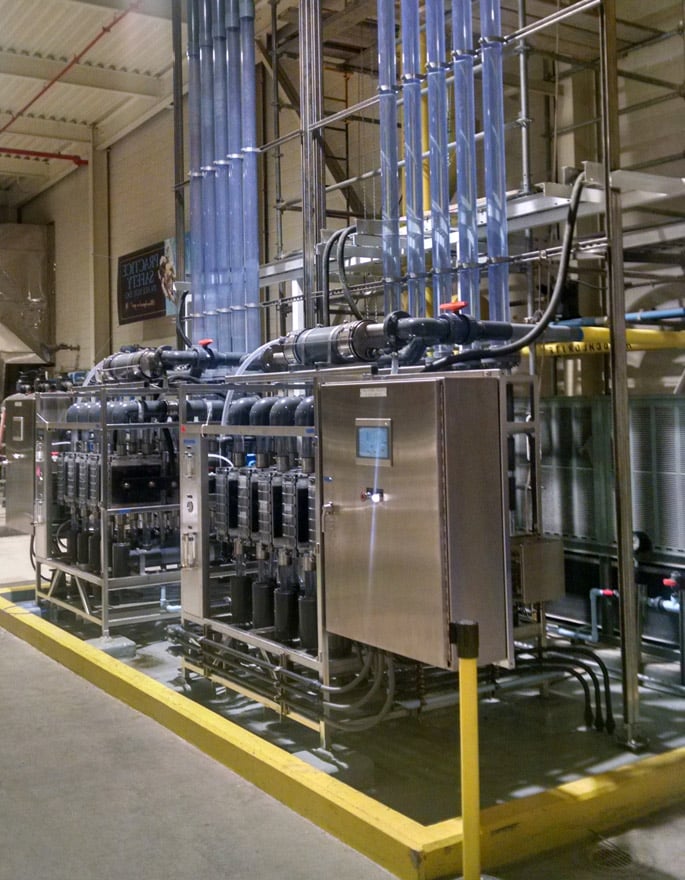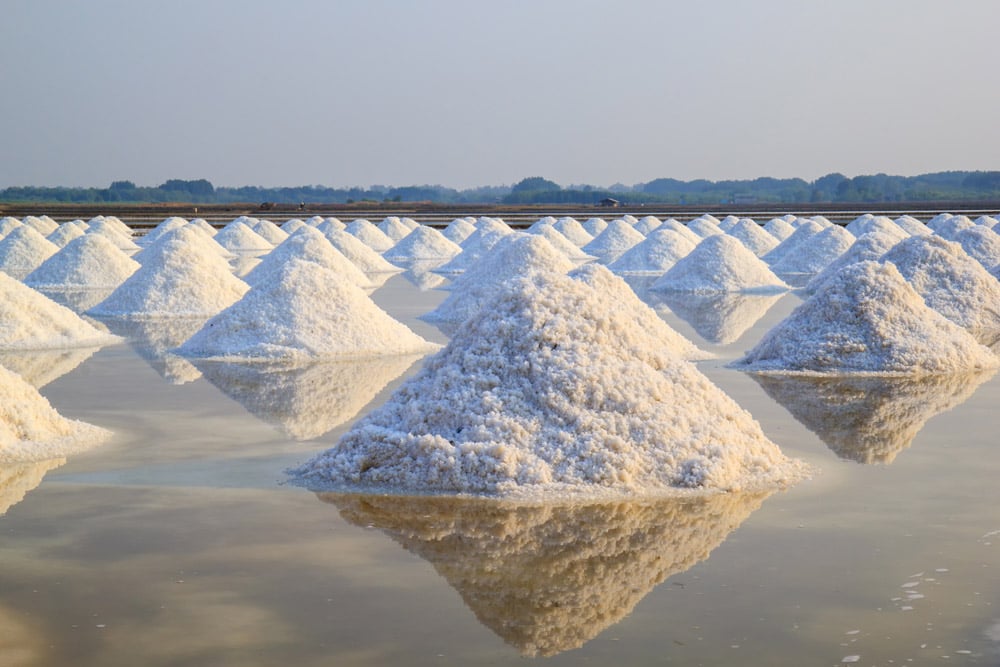 Safe. Sound. Clean and Green.
As concerns mount and regulations change regarding the safety and security of using chlorine gas for water disinfection, many utilities are choosing sodium hypochlorite (bleach) as a safer disinfection alternative. Once the decision to convert to a safer alternative has been made the question remains whether to purchase or produce sodium hypochlorite. Two reasons our customers chose Microclor® OSHG come down to safety and fewer deliveries.
Safety
Microclor's® OSHG dilute (0.8%) hypochlorite solution is below most hazardous material concentration thresholds of 1%. This reduces operator HazMat exposure and eliminates the need for diluting commercial hypochlorite to compensate for degradation which results in inconsistent solution strength.
Fewer Deliveries
The only raw materials required for the OSHG process are salt and water. This will reduce vendor deliveries by about 66% compared to commercial bulk hypochlorite. Less truck traffic through the community and at the facility will reduce the potential for accidents and eliminate the associated carbon footprint, furthering efforts towards Green Facility Management and improves the water security profile of your facility.
Save More with Microclor®
Reduced Operational Expenses
Since all chlorine compounds are derived from salt, on-site electrolytic conversion can result in significant savings to the owner. Typically, it costs less to produce sodium hypochlorite as compared to buying it as commercial grade hypochlorite.
Continuity of Operations
Microclor® OSHG will enable storage of larger quantities of raw materials (salt) necessary for your disinfection process. This will result in a more sustainable and robust treatment facility better able to withstand price fluctuations and the demands imposed by natural disasters or health emergencies.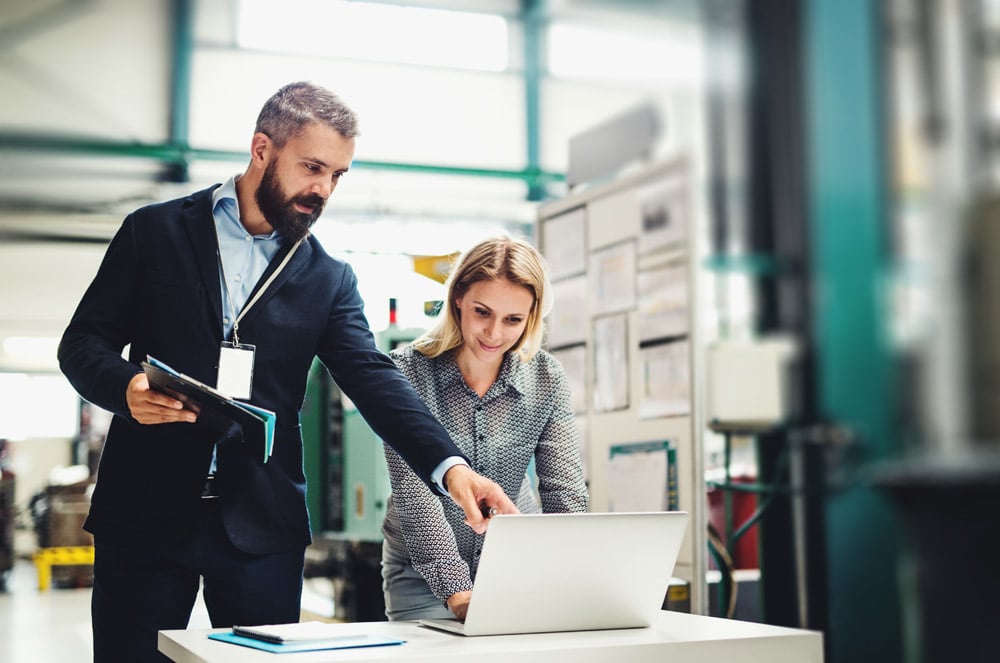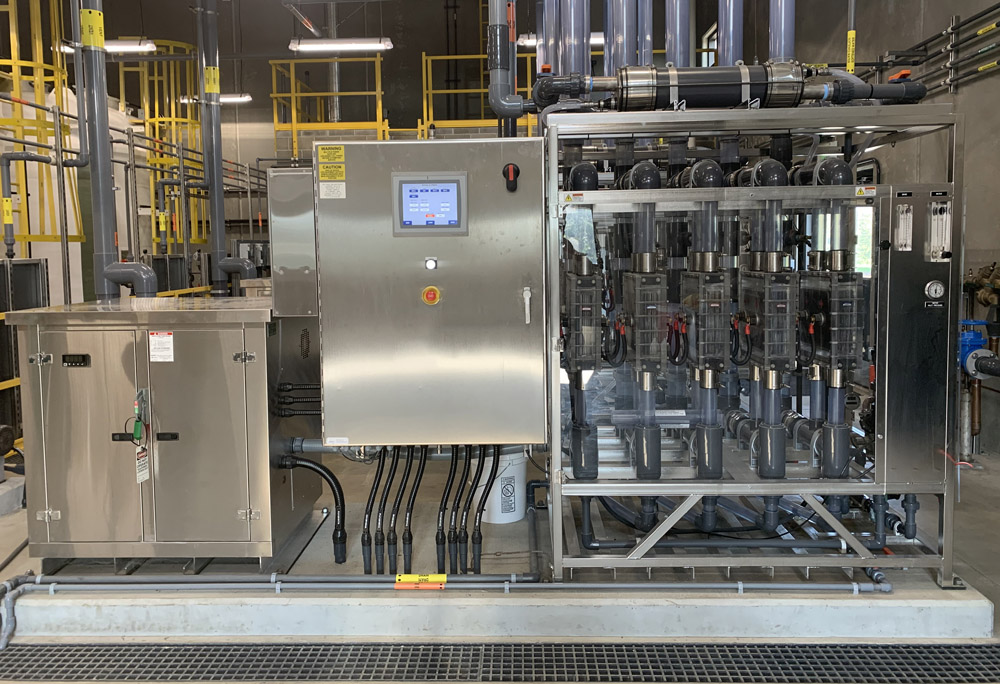 Superior Results by Design
The patented Microclor® OSHG design is the result of over twenty-five years of experience in the manufacturing, installation and servicing of hypochlorite generation equipment.
Vertical, Multi-Cell Configuration
The breakthrough multiple, vertical cell design of Microclor® OSHG allows it to immediately vent by‐product hydrogen away. It also improves resilience by allowing for continued hypochlorite production even with individual cell removal.
Compact Cell Design
The cell's vertical orientation not only allows better hydrogen separation but is also more compact, resulting in a more space-efficient footprint. The clear acrylic cell body supports the electrode array and eliminates the need for internal baffles and fasteners, reducing maintenance and repair costs over the life of the system.
Advancements in system safety and ease of operation make Microclor® OSHG the overwhelming choice for water treatment professionals.
Microclor OSHG. Simple. Efficient. Reliable.
Direct Hydrogen Management
The electrolytic cells are configured in a vertical array and vented directly to atmosphere. This prevents the chance of over pressurization by releasing virtually all hydrogen directly from each cell. Other systems use the storage tanks as hydrogen separators which can contribute to excessive cell pressure and vibration in the discharge piping.
Continuous Process Control
Microclor's® OSHG integral brine pump is controlled by the PLC to optimize salt conversion efficiency and hypochlorite production. Automating precise brine control reduces operator intervention and improves system effectiveness.
Full-Wave DC Power
Automated brine control allows full-wave rectification which greatly reduces excess heat and the number of components necessary in the rectifier. This reduces facility HVAC loads and improves system reliability.
High-Velocity Electrolyte Circulation
The hydraulic lift created by the hydrogen separation circulates electrolyte through the cell loop at 3 fps. This reduces the requirement for cell cleaning and minimizes heat accumulation in the cell.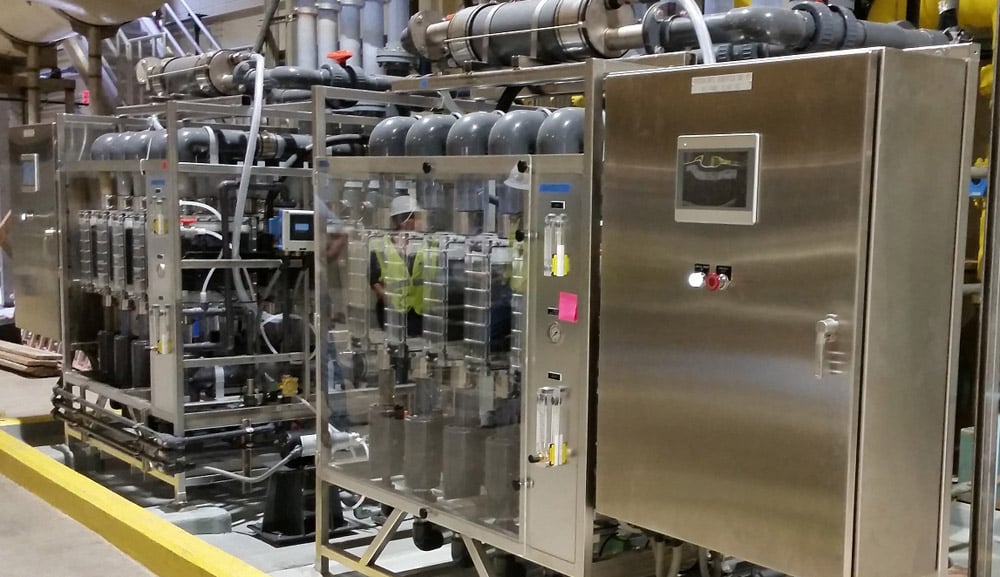 "The simplicity of the Microclor® OSHG system never ceases to impress me. Based on my prior experience with on-site hypochlorite generation, I never knew a system could be so easy to operate and maintain. Love it."
System Overview

The Microclor® OSHG system is modular in design and utilizes standard components that are easily customized to meet a wide range of requirements.
What's Included

A typical system includes:

Stainless Steel Skid Assembly
Water Softener
Brine Tank
Brine Pump
Electrolytic Cells
Skid-Mounted PLC Control Panel
DC Rectifier
Hypochlorite Storage Tank
Hypochlorite Metering Pump
Hydrogen Dilution Blower
Specifications of System

Capacities: 20-2400 pounds per day chlorine equivalent

Control: Automatic, regulated by storage tank level

Chlorine Concentration Level: 0.8% +/- 0.05%* (MC-20 - MC-2400)

Percentage Sodium Hypochlorite: 0.8% +/- 0.05%*

Consumables per Pound of Chlorine Produced: ~ 2.5-3.5 lbs salt, 1.8-2.4 kWH(AC), 14.0-17.0 gallons water

Water Input: Potable water, 50-80 PSI, 55°F-78°F (13°C-25°C)

Salt: 99.7% pure dry weight Morton White Crystal or equivalent

Control Cabinet: 304 stainless steel NEMA 4X

Operator Interface: 6" color touchscreen

Programmable Logic Controller: Allen Bradley® MicroLogixTM 1400

*Actual performance may differ in systems with less than five cells with operating conditions outside the norm
Product Configurations

Vertical Single Cell Design

Vertical Multi-Cell Design
Product Parameters

Microclor OSHG Product Parameters
Benefits of Microclor® OSHG

Over 15 years of installation experience

Generates safe 0.8% sodium hypochlorite

Breakthrough multiple vertical cell design

Engineered for easy maintenance

Simple to Operate

Safe, sound, clean and green!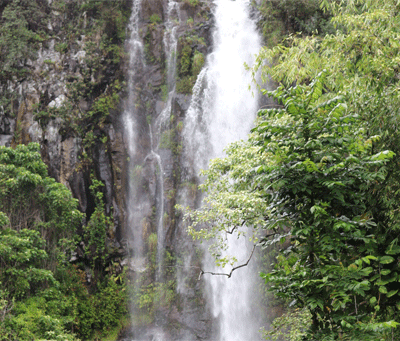 County of Maui
Location: Maui, Hawaii
Goal: Replace current solution at four separate water treatment plants with a safer, more resilient system in case of a natural disaster.

Solution: Microclor® On-Site Hypochlorite Generation
Outcome: The project was completed a week before the designated deadline. The conversion to sodium hypochlorite generation was completed on budget without any change orders. Since then, the Microclor® OSHG has enabled DSW to reduce costs and increase operational efficiency.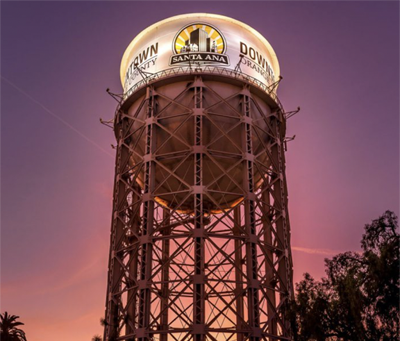 City of Santa Ana
Location: Santa Ana, California

Goal: Replace their outdated On-Site Hypochlorite Generation system with a modern system that met the needs of this large city composed of 325,000+ residents.
Solution: Microclor® On-Site Hypochlorite Generation
Outcome: The Microclor® OSHG sytem provided the City exactly what they were looking for: a cost-effective, efficient, and easy-to-manage alternative that could keep up with modern technology and provide clean water to their residents for years to come.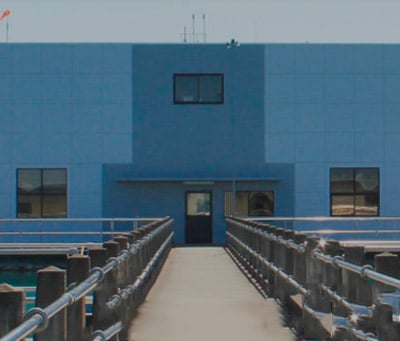 EWEB
Location: Eugene, Oregon

Goal: EWEB wanted a system that would allow them to generate their own disinfectant on-site and reduce hazardous material usage to create a safer work environment.

Solution: Microclor® On-Site Hypochlorite Generation
Outcome: The investment in Microclor® OSHG allowed EWEB to generate their own disinfectant on-site at a much safer concentration of 0.8%, which is 20% below the hazardous material threshold.




Immediate/Continuous Hydrogen Removal

Low-Cost, Stable Hypochlorite





"The Microclor® OSHG systems are a safer, cost-effective and easier to maintain alternative to our previous OSHG systems. OSHG continues to be an excellent technology for our multiple and dispersed well-sites."
MICROCLOR® OSHG
Downloadable Documents

Let's get the conversation started
Tell us a little bit about you and the information you're looking for and we'll send you information by email about the topics you are interested in. Check the box to have a cleanwater1 expert contact you within one business day.
Information The way you want it
Additional Resources

Learn At Your Pace
By subscribing to our learning track, you will receive emails featuring videos, webinar invites, informative articles and more.

View Our Online Library
Featuring brochures, case studies, data sheets and more. Filter by product category, brand, location, use case or document type.

Connect With Us
Contact a member of our team using our online form, by email or give us a call. We look forward to speaking with you.